OPUD-154 Seriously Ska Ward Scat Poisoning Harlem Lesbian Creampie Gangbang
まじスカ第3弾は病院。過激な糞好き女達が欲望のままにウンコ撒き散らしてスカトロ中出しFUCK!オペラにしか製作できない糞まみれハーレム160分です!大量脱糞アナルまる見え!!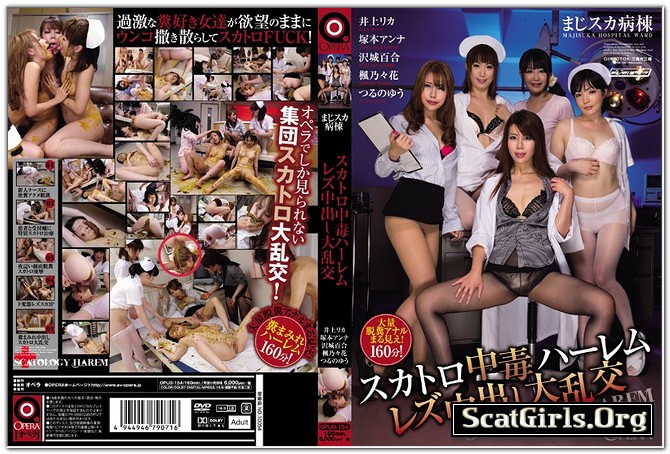 Scat DVD Movie: まじスカ病棟 スカトロ中毒ハーレム レズ中出し大乱交
Website Number: OPUD-154
Studios: OPERA
Scat Actresses: Rika Inoue (井上リカ), Anna Tsukamoto (塚本アンナ), Yuri Sawashiro (沢城百合), Nonoka Kaede (楓乃々花), Yuu Tsuruno (つるのゆう)
Category: Scat, Lesbian, Enema, Group Sex
Scene 1:
In a Medical bay, the doctor (Rika Inoue) and her nurses work on a patient. At the receptionists desk, Anna Tsukamoto answer the phone and talks with a guy. Meanwhile Yuri Sawashiro is laying in a bed and a nurse, Kaede Nonoka enters and asks how she is doing. Later on Yuu Tsuruno is not happy with Kaede and pushers her. They argue and some nasty janitor guy comes in the reception area and Yuu tells him to hold Kaede! They grab her and strip off her nurses uniform. They make her squat on a chair and she starts to shit onto the floor! Yuu is not happy about how much shit came out and gives her a enema ball. Kaede pushes again and a log of shit shoots out her asshole! Both of them make her look at the shit on the floor and then Yuu squats above her face and shits a load into her pantyhose and she mashes her butt against Kaede's face! She pulls down her pantyhose and the nasty guy and Yuu rub the shit all over her face and body. The janitor then inserts a full load of water into Yuu's asshole with a enema plunger. She squats over Kaede's face and shoots out liquid shit the covers her body!! The janitor then makes her suck his cock and fucks her as Yuu piles shit on top of her face. The guy doesn't last long and pops his load into her cunt. Yuu plays with the cream and finger bangs Kaede's pussy!
Scene 2:
Back in Yuri's room, Kaede checks on her again. The head doctor Rika Inoue watches as Kaede talks with her. She wonders if her treatment is going well as Rika smiles. Rika then comes back in the room with Kaede and Yuu. They go over to Yuri and they remove her bed cover. Rika checks her body and the nurses then remove her bottoms. Rika checks out her pussy as Yuri legs are spread. She molests her pussy and Rika stands above her. The nurses hold Yuri as Rika pulls down her pantyhose and panties and pushes out a huge runny mess of shit directly on Yuri's face!! Two nasty guy orderlies enter the room and take Yuri off the bed and place her on the floor. They hold her down as Yuu squats over Yuri's face and starts to shit into her white pantyhose! She presses her ass against Yuri's face then pulls off the pantyhose letting the huge shit dump over her face!!! It's Kaede's turn and she only poops out a small load into her pantyhose. They are quickly removed and she mashes Yuri's face into her dirty ass. Yuri starts to suck the guys cocks while her face is covered in shit. She gives a handjob to the other guy and Yuu is behind her and puts her ass near her head and shoots out a ton of liquid shit which piles onto the top her her forehead! Yuri starts to piss on the floor and the girls rub the shit all over Yuri's body and one of the guys fucks her in doggie position. All of a sudden Anna walks into the room and is shocked!! The girls grab her put her on the bed. They rub shit over her clothing then pull her pantyhose down and she squirts out a huge nasty liquid load all over Yuri's face!!! She then gets shit all over her clothing as Yuri is still being fucked. She is turned over and is fucked in missionary position as Anna gets finger banged by Rika. The guy pumps is load into Yuri's cunt.
Scene 3:
Later on, Yuri is in another room sleeping and Yuu is molesting her body then moves the bed covers away. She strips off her nurses uniform so she is only in a bra and pantyhose. She kisses Yuri who is still sleeping then starts to rub her tits. Yuri wakes up and Yuu continues to molester her. She squats over Yuri's face and rips her pantyhose and panties and pushes out a huge log of shit that falls onto Yuri's face!! Yuu rubs her waste all over Yuri's face and body covering it in shit. Yuu then eats out Yuri's shaved pussy as Yuri struggles. Yuri shits on the bed while Yuu spreads her asshole and rubs Yuri's shit over her body. Anna is watching from the door!!! She can't believe what is going on again and the nasty janitor catches her and brings her over to the bed. Anna squats over the bed and shits out a log of shit. The guy shows the shit to her then puts it on her face. He strips off her top and face fucks Anna's mouth as Yuu continues to molest Yuri's shit covered body. Anna gets fucked from behind and Yuu rides Yuri's face with her pussy! The guy pops his load into Anna's cunt as Yuu looks on.
Scene 4:
Kaede and Anna are talking at the reception desk. They have a meeting with Rika! It seems Rika thinks the girls don't know anything about what goes on in the hospital. She makes both girls get onto the coffee table and they squat down. Both girls are wearing pantyhose with thong panties!! Rika looks at both girls asses and Anna is the first to shit into her pantyhose leaving a cute brown bump. Kaede strains again to push and Rika is fed up. She rips her pantyhose and moves her panties to the side. She grabs her asshole and spreads it. A massive amount of liquid shit escapes her asshole and onto the floor! Rika removes Anna's pantyhose and takes the shit and wipes it on her face and all over Anna's ass! She does the same thing for Kaede! She strips the girls clothing and rubs shit all over their bodies and Anna's hair!! Rika strips the two girls of their clothing and removes hers also. She sits on the couch and makes the girls shit directly on her stomach! The girls push out small loads which Rika rubs onto her body and the other girls!!
Scene 5:
Seems Yuu is in trouble! Rika and two nasty guys confront her at the reception desk. They grab her as Rika starts to molest her tits. They strip her clothing off and expose her shaved pussy. Rika finger bangs her cunt with two fingers making her cum. The guys then lay Yuu on the floor and hold her arms and legs. Rika squats over her body on a bench and starts to shit onto Yuu!! Rika then rubs her shit all over Yuu's body as she struggles. Anna, Kaede and Yuri (Wearing very cute Pajamas) get on the bench and squat over Yuu's body. Then remove their pantyhose and pajama bottom then shit onto her body. Rika watches and places the shit onto Yuu's face covering it in shit. They give her an enema and the girls molest her body and spread shit all over her. They put Yuu in a doggie position on the floor and then make her put on white pantyhose. She pushes out and liquid shit escapes out of her ass into her pantyhose cover everything! Rika rips the pantyhose and Yuu's waste falls to the floor and Rika pushes the mess onto her tits covering them. She then sucks one of the guys cocks as Yuu sucks the other. The girls watch as they suck the cocks and Rika and Yuu are placed close to the bench and the girls shit again right ontop of the girls heads! They rub the shit all over their hair coating it in waste. The guys then fuck them while the girls try to shit again into their bodies. The guy cums on Yuu ass and the other guy pops his load right in Rika's cunt!! Both girls are covered in shit and cum as Rika tells Yuu that she loves it and smiles at her!!!
File:wmv
Size: 6800 MB
Duration: 02:41:51
Resolution: 1920×1080
Links:
OPERA Studio
(Visited 82 times, 1 visits today)