OPUD-191 Popular Scat Bullying School
Kasumi is talking to her friends in a class room. She's is very excited. Karen Uehara and Ai Mizushima ask Kasumi if they can talk to her. All three girls enter the gym room and Karen wants to know if Kasumi is interested in joining their exclusive "girl club". Kasumi agrees but she has to do something. Ai makes Kasumi lift up her skirt exposing her panties to Karen who is taking pictures on her cell phone. Ai makes Kasumi bend over and more pictures are taken of Kasumi showing off her panties!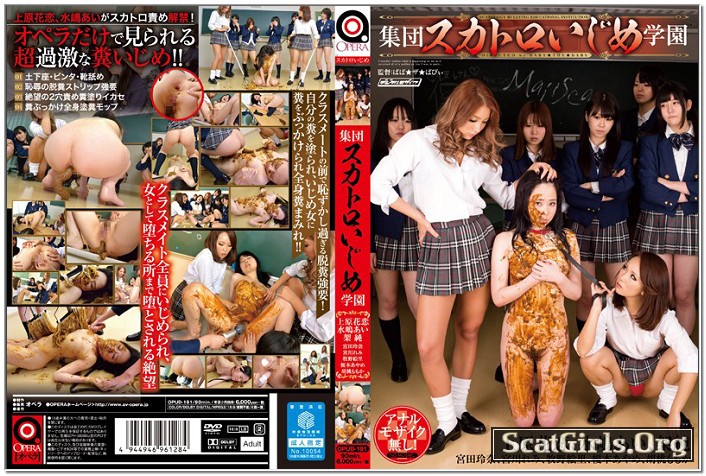 The chalk board in the class room is full of printed out pictures of Kasumi posing for the two girls from before. All her friends in the class room, Rena Miyata, Kurumi Momoka, Ayame Enomoto, Eri Makino and Remi Miyakawa are holding the pictures of Kasumi! Kasumi is not happy at all and rips the pictures form the board and tries to grab the other pictures. She starts to cry and collapses to the floor. Ai pushes her to the floor. None of the girls care about Kasumi now since she tried to show off. Ai makes Kasumi lick her shoe and the rest of the girls start to bully Kasumi. Ai slaps her right across the face and makes her lick and kiss her shoes. The girls gang up on the defenseless Kasumi! They strip off her skirt and spread her legs exposing her white panties. All the girls leave Kasumi on the floor.
The next day, Kasumi enters the class room and Ai goes right to Kasumi. She grabs her hair and makes her get on top of the school desk. She strips off her skirt while all the girls are watching. Ai and Karen bully Kasumi until she is naked. The five other girls spread and hold Kasumi legs apart as Kasumi struggles. They make her get into doggie position and all the girls take cell pictures of her little asshole. Karen then spreads Kasumi asshole and makes her shit onto the table. All the girls scream as she shits out a small piece then she pushes out a huge shit onto the table. Ai and Karen gape Kasumi little dirty butt as her friends take pictures!
Later in the day, all the girls are back in the class room. Ai and Kasumi are at the head of the class. Kasumi starts to strip her school outfit off while the girls watch. She is placed on the desk and the girls start to molest her. They spread her pussy and take a hotdog and insert it into her cunt!! They fuck it in and out of her pussy. Ai makes one of Kasumi's friends fuck her with the hotdog as Karen holds her down. The girls then try to put two hotdogs into her cunt. Kasumi asshole is next! Ai puts the hotdog slowly into Kasumi's asshole. They put another hotdog into her cunt and double penetrate her and Karen takes a third hotdog and fucks Kasumi's mouth. Karen is not happy with Kasumi making noises so she puts the entire hotdog into her mouth. Ai reaches for a pink dildo and forcefully jams it into Kasumi's pussy. Kasumi friends join in and put a dildo in Kasumi's asshole and Ai grabs a Hitachi magic wand and plays with her clit while Karen fucks another dildo in her cunt. All the girls fuck Kasumi until she cums. With the Hitachi wand on her clit, Kasumi starts to shit! A small rope of shit escapes her ass. Finally a long log starts to come out and land on the table! The girls push on Kasumi's stomach and she pushes out a soft half foot shit out of her asshole. Karen uses the hotdog to scoop up her shit and put it on Kasumi's breasts. Ai then takes a handful and spreads the waste all over!
Scat DVD Movie: 人気のスキャットいじめ学校
Website Number: OPUD-191
Studios: OPERA
Scat Actresses: Karen Uehara, Ai Mizushima and Kasumi
Category: Girl on Girl, Shitting, Lesbian Scat Domination, Lezdom Scat, Copro, Asian Girls Shits, Full HD scat, Depfile Scat, Extreme Scat, Censored Scat, Scat and Piss, Download Scat
File:wmv
Size: 3740 MB
Duration: 01:29:42
Resolution: 1920×1080
Links:
OPERA Studio
(Visited 154 times, 1 visits today)